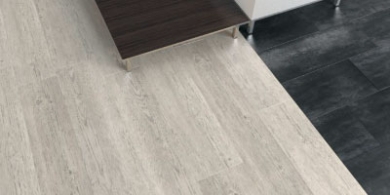 Recommended for wet areas.
Although it is designed only for wetlands, can be installed anywhere in the home or business.
 
From now on nothing will stop you having laminate flooring in your kitchen, bathroom or wetlands. You can have an Identical floor as a wood laminate flooring but in PVC, which can be wet and flood, without the water affecting your pavement.
There are many possibilities when choosing a design, because we offer are not only wooden models but als PVC.
We offer an impressive assortment of products with different installation systems
Different sizes of slates and tiles.
Finishing imitations of concrete flooring, slate, fabrics, woods and a variety of very avant-garde models.
We quote some of the catalogs that we offer:
Liberty Clic.
Liberty Original.
Liberty Urban.
Liberty Clic BASIC.
Tarkett Wood Star Floor.
Tarkett inspiration.
Tarkett ID.
Quick Step Balance.
Quick Step Pulse.
Quick Step Ambient.